Reviews of Yehudiana - Reliving the Menuhin Odyessy, Book One
  
music<forum:
Journal of the Music Council of Australia
Vol.16 No. 1, November 2009 - January 2010
BOOK REVIEWS
Yehudiana, Reliving the Menuhin Odyssey. Book 1.
Philip Bailey, Robertson, Australia: Fountaindale Press, 2008, 322pp.
MSCN 9780980449907 (pbk)
Reviewed by Goetz Richter
Great musicians often provide us with material for a great biographical narrative. To be sure, there are their rich and often inconceivable accomplishments. However, more interestingly their lives gives a sense how history and character shape art and existence. While performers may wish to present a stage-managed appearance, the real story will often reveal contradictory dimensions and impulses. A biographer has a difficult task: Will he follow a life's journey according to superficial interpretations or will he expose the tensions which critically reflect the fate of exceptional people?
In the first part of what will become a two volume work about the "Menuhin Odyssey", Philip Bailey has set himself an ambitious task. He intends to relive the journeys of Yehudi Menuhin, arguably the most celebrated violinist of all times, and his second wife, the dancer Diana Gould. The first volume which is generously enlivened by photos covers their first separate years until their meeting and eventual marriage in 1947.
Yehudi Menuhin, born in 1916 in New York, rises to international fame as a musical genius and a precociously mature prodigy. A household name as a teenager, his early career is nurtured by some of the leading musicians of the times and helped on his way by his parents' flair for promotion and publicity. The thirteen year old gives his debut in Berlin performing three violin concerti (Bach, Beethoven and Brahms) in one evening with the Berlin Philharmonic under the direction of Bruno Walter. In 1938 Menuhin forges an indelible link with Australia: he marries the Australian Nola Nicholas (his sister, the pianist Hephzibah marries her brother Lindsay Nicholas). Both marriages eventually fail, Nola and Yehudi's after the latter meets the dancer Diana Gould. Diana's life and career, while less publicly remarkable, is comparably turbulent. She receives her formative training in the context of the presence of the Russian ballet, Les Ballets Russes, in London. Diana's opportunity to join the most famous ballet company of her times remains unfulfilled with the death of its director, Serge Diaghilev in 1929 and subsequent engagements and opportunities never appear to fulfil strident ambitions.
Bailey's story is based on a large range of sources including hitherto unpublished letters by Menuhin's first wife, Nola Nicholas, to her life-long friend Joan Levy. The inclusion of such personal material provides Bailey's book with a compelling dimension but also with challenges. First-person knowledge can struggle with critical distance especially under the influence of charisma. Bailey thankfully remains disciplined and reflective. It is to the author's credit that he seems to achieve significantly more clarity and insight into the Menuhins than they themselves did in their own autobiographical attempts. In the case of Yehudi Menuhin whose Unfinished Journey appears unfinished in a significant sense, Bailey does not shrink back from discussing unresolved technical performance challenges, including a persistent and recurrent bowing tremor faced by the mature violinist. Would Yehudi Menuhin's career have developed differently had early teachers insisted (as Eugene Ysaye suggested in 1926 when auditioning the young Yehudi) on the diligent and methodical study of technical work and scales?
A controversial figure of the Menuhin odyssey appears to be Yehudi's mother Marutha, a colourful and somewhat eccentric personality. There are suggestions that an overbearing Marutha is perhaps responsible for the failure of the first Menuhin marriage. Bailey is careful and does not get carried away by partisan appearance here. Powerful personalities tend to be complex and in the case of the Menuhin family this complexity extends to all involved. The directions in the life of outstanding artists cannot be reduced to simple or single causes. Yehudi Menuhin's career during and immediately after World War II is a case in point: Faced with extraordinary circumstances, human challenges and increasing artistic competition, Yehudi Menuhin embraces the complexities of his times with zeal and courage. He performs countless concerts and recitals for allied troops in World War II, becomes the first Jewish musician to visit Germany after the Holocaust and travels beyond the Iron Curtain at a time when battlefronts for the cold war were being drawn. His artistry and character seek to bring the ideal, the human and the pragmatic dimensions of life into ongoing balance. This search, it seems, has kept the Menuhin odyssey alive.
Bailey's own search to relive it is sensitive, lucid and it stays on track. Aiming to expose contact points and converging pathways in two such intricate life stories is a delicate ambition and potentially fraught with the danger of creating artificial links or confusing the reader. Bailey, however, negotiates dangers skilfully. He manages to keep us focussed with a flowing and clear, readable prose which never becomes tedious. While this work is nurtured by a profound respect and loyalty to the Menuhins and their memory, the author is not afraid to approach their existence critically. This is no gushing account. The story of the Menuhin odyssey reads like a real search and Bailey achieves its reliving.
Dr. Goetz Richter is a violinist and philosopher and is Associate Professor for Violin at the Sydney Conservatorium of Music! SydneyUniversity. He performs regularly in recital and chamber music concerts and publishes, in the area of violin pedagogy, philosophy and the philosophy of music.
---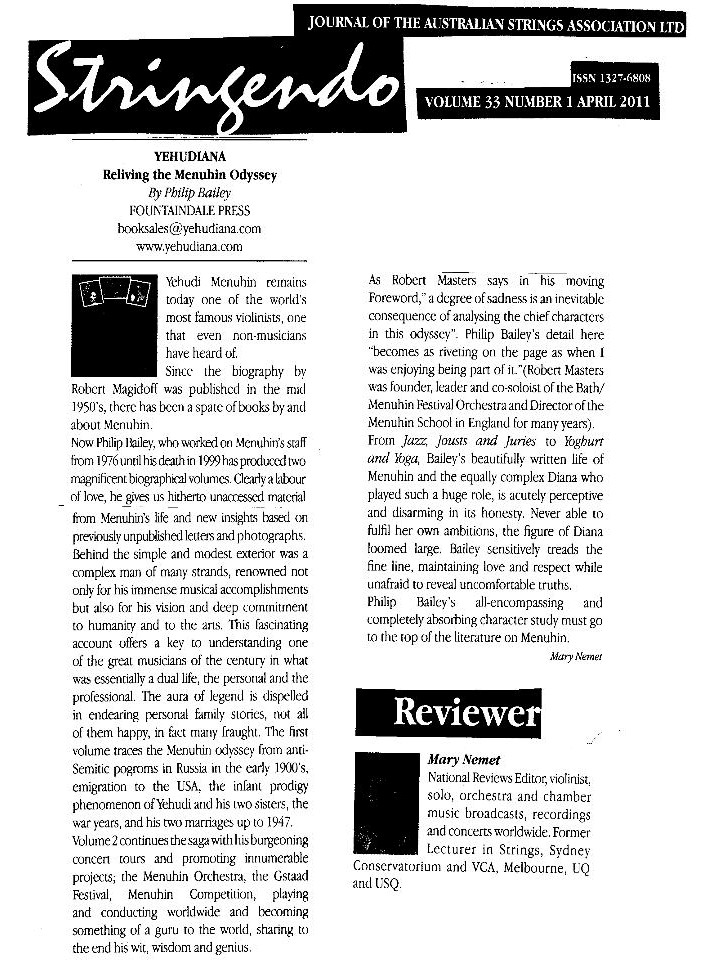 From  NT, Sydney, August 2018.
 I am writing to give you feedback on your biography – Yehudiana, Reliving the Menuhin Odyssey.
I wanted to congratulate you on this outstanding work - a great story, very well told with excellent assessment of the events being relayed. A re-telling of remarkable scholarship - the fact checking involved must have required painstaking diligence and attention to detail.
Rarely does one read a biography where the author is so familiar with the subject and is often writing from direct experience.
Of course I knew of Yehudi Menuhin as a great violinist, but that is all I knew. His story is amazing. Truly a force of nature and the energy of the man is almost impossible to comprehend.
Of all the characters in the story, I had the most sympathy for Nola Nicholas. She seemed very levelheaded and optimistic and endured much in the early years, away from her own family and in another country, raising young children and living with very strong willed in-laws. It seems she never got over Yehudi and her descent into drink seemed entirely out of character.
On the other hand, I found Diana difficult to warm to at any age, seemingly suffering her whole life from an acute insecurity. However, her outstanding writing abilities were evident from the earliest quoted texts. I feel she could have been a great novelist, perhaps reaching peaks that evaded her as a ballerina. Yehudi also had a beautiful and powerful turn of phrase
Marutha and Moshe were clearly both highly intelligent and Marutha nothing less than an extraordinary and powerful personality.
I'm sure you have received worldwide acclaim for this work and I'm sure nothing said above will be new to you, but I simply wanted to show my appreciation for a great literary work. I have learnt a lot from it, much more than simply the lives of the protagonists.